15-22°C HILOTHERAPY®
for pain relief in rheumatism
A cooling treatment with single-degree precision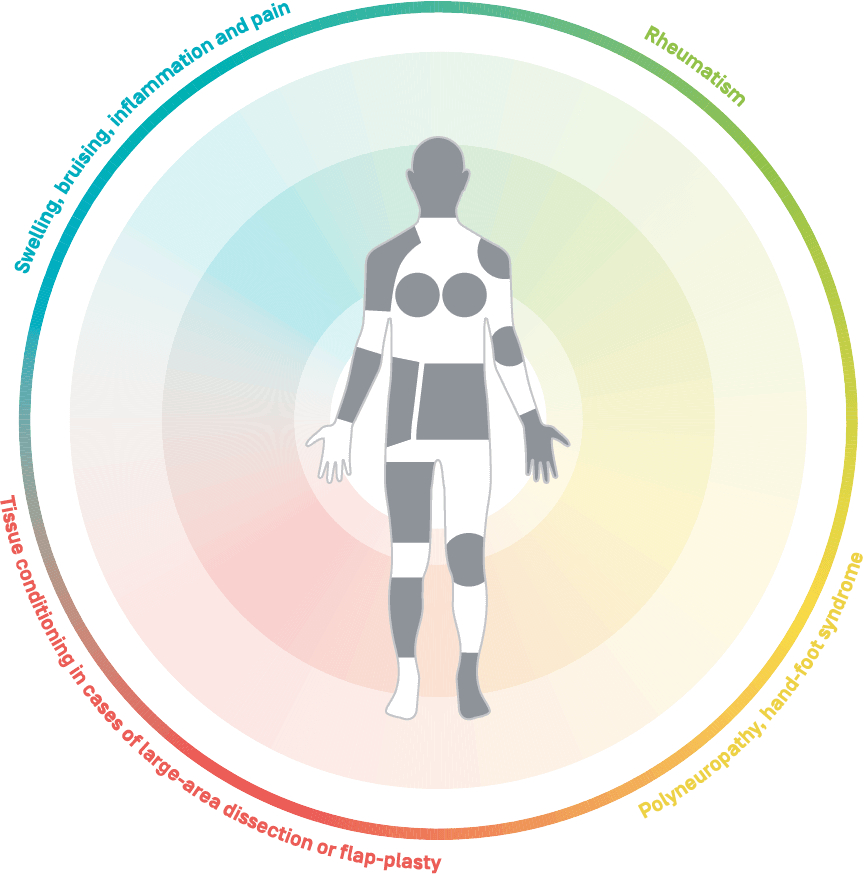 Cooling treatment? I've heard of that already!​
You're sure to have heard of cooling treatments before, as using application of cold in the treatment of rheumatic diseases is nothing new. From ice packs to cool pads, cooling sprays to cold air… Even refrigerated rooms! There's already a wide range of options available. You've probably even tried a few of them for yourself. What you won't have experienced, however, is a new, completely different treatment approach, which differs significant from traditional treatments: HILOTHERAPY®.
What is​ ­HILOTHERAPY®?
A thermo-treatment which allows for temperature control to single-degree precision over a range from +15°C to +22°C. The temperature is then maintained consistently at the selected
value, even during sessions lasting several hours. You can, of course, also adapt the temperature at any time, even during application, to suit your personal experience.
Constant application of cold ensures the desired effects of HILOTHERAPY® are achieved. This starts by blocking pain receptors. "Transmission" of impulses from the affected areas to the brain is disrupted and the pain sensation is blocked.
A second effect: if the local tissue is cooled, a reduction of blood circulation to this area occurs as well as a reduction in the local metabolism. Both have an effect that reduces and even reverses inflammation.
A further positive influence is the supporting effect on lymphatic drainage and cytokine balance. Cytokines are messenger substances that play a vital role in the control of the immune system. Excessive amounts of pro-inflammatory cytokines, and a lack of anti-inflammatory cytokines leads to chronic inflammation. Rheumatoid arthritis is one example of a disease where this balance is disrupted. These effects demonstrate why cooling treatments are expressly recommended by the German Rheumatologist Association.
A "cold chamber" for the home
HILOTHERAPY® functions using a combination of the HILOTHERM HomeCare device, cuffs for application to the body, and a closed-loop circulation system through which a cooling medium flows. The device is compact and easily transportable at a weight of just 2.9 kg (weight when empty). You simply need to connect to a power supply and add distilled water. That's why Hilotherapy can be used at any time, independently of doctors appointments.
Results from an observational study
Dr. med. Peter Keysser
Head consultant at the Rehabilitation Department,
Orthopaedics and Rheumatology,
Oberammergau Hospital [Klinik Oberammergau],
Waldburg-Zeil Kliniken
"After having used the cooling cuff system on the larger joints in our surgical patients with great success for many years (even in patients with systemic inflammatory-rheumatic diseases as part conservative therapy), we now had the opportunity to test prototypes of the new hand cuffs as part of a new application observation study. The new cuffs were used in patients having undergone surgery on the hand as well as in patients suffering from rheumatoid arthritis in conservative therapy. Here too, the early results are very promising. On average, the treatments studied showed a reduction in pain on a visual analogue scale by 2 out of 10 points. A quarter of patients reported a reduction in the need for pain medication due to application of the treatment. No cases reported any adverse effects or pain, such that we are in the position to strongly recommend applying the method for our rheumatism patients as well as patients suffering from orthopaedic and trauma-related issues."
Thanks to the HILOTHERM® scalp cooling my disease never became visible.
Each and every one of us in our family has benefited from our Hilotherapy device already. Apart from using it for small day-to-day aches and pains, we have applied it more specifically in the case of the following injuries/procedures: wisdom tooth extractions, syndesmosis ankle ligament surgery, dislocated thumb, ankle ligament rupture, joint capsule separation in thumb. It really can't even remotely be compared to the traditional methods of cold application with ice or gel packs!
Particularly in my hands, the feeling of numbness and the pains I had in my joints and tendons have almost completely disappeared. I put this miraculous improvement down to using your cooling glove-type hand cuffs. I often think back to the chemotherapy sessions when I was in treatment, which would go on for up to 8 hours, and how they would be so much more tolerable because I was now able to read. Before using this treatment, reading would have been unthinkable if I was using the ice packs that were offered to me at the clinic. Now I hope that, with time, I'll regain the sensitivity that I previously had in my feet.
Thanks to the scalp cooling system by HILOTHERM® my kids never had to see me without my hair.
My daughter fell out of a bunk bed when she was 4 years old. As surgery was only possible the following morning, I made sure to keep her jaw cool for the entire night. She had no swelling and didn't require any pain killers, all thanks to Hilotherapy. As a family with three daughters, we've had plenty of opportunities to put Hilotherapy to good use. We can only hope to never be without our Hilotherapy device again!
Thanks to the scalp cooling I was able to keep most of my hair. Looking in the mirror I never felt sick.
Diagnosis breast cancer followed by chemotherapy at age 30. I knew I needed the chemotherapy treatment – but I wasn't willing to ever loose my hair. Thanks to the controlled scalp cooling I was able to keep most of my hair over the course of my whole chemotherapy. I am very grateful for that – even now, many years later.
We originally decided to get a Hilotherapy device for treatment of my knee arthritis at home. Since then, however, it has really become an indispensable "family member". We still, of course, use the device for my knee osteoarthritis, where it helps me a great deal to stay pain-free and keep playing active sports, getting me back on my feet whenever I have overstressed my joints. We have found further applications for headaches, sprains and bruises, or even after insect bites or burns. Cooling injuries with ice or frozen gel – something that I also used to do – doesn't even come close to the effectiveness of Hilotherapy.
Distilled water. No chemicals.
Delivery is possible within 2 days from receipt of payment
There are specific cuffs for the different areas of the body. These can be found on the product overview page. We would also be delighted to give you further information over the phone.